Search Engine Optimization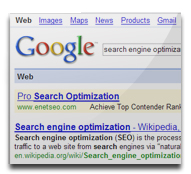 Increase your web site's ranking in the major search engines. When potential customers search the web for your company or product does your website appear on the first page of the search engines or does the competitor's? Why would anyone spend the money and time to design and launch a top of the line website only to have it sit unseen and unused when customers search the web.

At Galiant Business Solutions we will use the latest methods and our 12 years of online marketing experience to ensure your website gets top placement in today's most popular search engines. Boost sales and your site's visibility online with cost effective organic search engine marketing. Unlike most SEO companies we offer cost effective packages for every type of client, call for a free consultation and rank report.


Web Development / Web Design

A great deal of your success comes from working with a company that will help you along the way and before you even begin to build your site helps guide you in the right direction to take full advantage of the web, a partner in your success.

Whether it is a starter web site, e-commerce site or custom site tools to take your web site to the next level, with Galiant you can expect unmatched customer service, professional design and user friendly interactivity that guarantees your website will become a strong business asset that provides a return on your investment. Our comprehensive web services include custom web site design, web site development, web site redesign, Flash animation, custom programming, ecommerce solutions, website maintenance, and secure web hosting.


Print Marketing / Graphic Design

Consistency is the key to a strong business identity. Galiant Business Solutions is your one-stop-shop for all of your graphic design, print and marketing needs. Galiant has over 12 years of experience in the electronic and print media marketing.

From graphics design to printing our graphic arts staff will design your business cards, brochures, flyers, print-ads, mailers, e-newsletter and more while keeping a professional look and design that is consistent across the web and your print marketing. Learn how working with a full service marketing company for both your online and traditional print marketing needs can save your company time and money.